Archive for October, 2009
My kids have gotten loads of tattoos this Halloween season. Which is fine with me! I would rather them have some little tattoos, stickers, or playdoh instead of candy.
Well, the other night we went crazy. I let them have as many tattoos as they wanted, which meant their arms were COVERED! We are going to another Halloween party… and guess what they will have? More tattoos!!!!! So, I decided to take the old ones off.
I had heard you could use baby oil, but we don't have any. Not sure we ever did. I was never too sure about oiling up the babies. (We did use coconut oil massages). So, I got out the olive oil. I rubbed it on the tattoos. Massaged it in a little. And rubbed it briskly with a towel. They came off!!!! No screaming, whining, or squirming… they came right off. And now the kids have smooth soft arms!
My camera broke.
So now I can not take pictures of the kids… and all that is going on. What are we missing? New swing set, costumes (bought at Target on clearance for dress up), Halloween parties, trick or treating, Zane riding his tri-cycle, etc. I am sad and at a loss. However, I did contact Sony.
I have only had the camera since last November. So, it is still under warranty. Plus, I bought the extra 3 year warranty for $20 (a need when you have twin toddlers). When on the phone with Sony they asked if the camera had been abused. "no" Well, not really past usual life with twins. lol I sent it back.
I'm prepared for them to send it back to me and say it was abused. There are nicks on it from where it has been dropped. A piece holding the battery in snapped off near the beginning of it's life. It has been used… well used… but by a mother of twins.
Did I take it out and beat it? no. Did I throw it? no… well, it may have been dropped a few times, but not intentionally. It was not hurt more than normal use. So, fix my camera and GIVE IT BACK!!!!! I have 3 toddlers who are growing every minute and NEED their pictures taken!!!!!!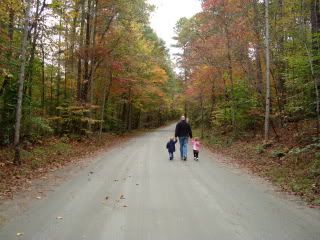 Not sure why I have been so behind on the posts… I'm sure 3 2/12 year old toddlers running amuck, everyone being sick, and the rainy/cold weather have nothing to do with it. Oh well… I'll try to be better.
Kids started preschool a few weeks ago. They now go 2 mornings a week for 3 hours. This has been a BLESSING for my sanity! Now, I have some time to run around, clean, etc with no toddlers! I think one of the best things is that I can take some time for me… I can shower without worrying about what they are getting into or hearing, "Mommy… Mommy… Mommy!" 5 billion times. AHHhhhhh it's the small joys!
Here are some pictures from the past few weeks. There is a picture of them with their little back packs on, ready for the first day of school. There are also some from the fair, hiking, and Halloween. The kids are a "Princess" and a "Frog Prince" for Halloween. They look so cute… and best of all, they can run around and move easily!
I carved both pumpkins, at their request. We have one "Blues Clues" and one "Hello Kitty". I love carving pumpkins! I'm still a kid at heart! I really get into the holidays and am so excited they are now at the age where they get joy out of them!
There are a few things I have found we could not live without. The Ergo and Bob Stroller are two of them. When you have twins, simplicity is everything. These are 2 of the, very few, things we bought outright. I have NEVER regretted either purchase!!!!
Well, here is my 3rd recommendation, the TOT Clock !!!!! This is one of those true finds… once you have it, you don't know how you ever lived without it!!!!!

As I have posted, we have been having LOADS of trouble getting Zane to sleep or even stay IN his toddler bed. I have put him back repeatedly, offered a reward, all sorts of stuff. The kid just refused to sleep. I was at my wits end!
After some research I found the TOT Clock . I spoke to the company and they agreed to send me one to review. I ordered a 2nd one for Bree because I was so excited about it! We got different faceplates for each of their clocks, that they picked out. Zane got sports and Bree got pink with a rainbow and castle. I felt this would help them buy into the idea and feel ownership. They were both THRILLED!
The features on this thing are AMAZING!!!!! It lights up in different colors to help your child know what they should be doing. Right now we have mostly just been using 3 of the colors. Dark Blue for night time, Light blue for nap, and Yellow for daytime. You can set them for the times and duration you want. Plus, if you are changing the schedule, you can start them when you want!
At first things were a little rough. Being 2, it took awhile for them to understand the concept. BUT, I am happy to say, they both fully understand it now!!!! Their nap setting is set for 2 1/2 hours. Bree has never had much trouble with sleep time, until we gave up the binky. We had a rough couple of weeks. Now, they are both laying in bed until the clock turns yellow again. Most of the time sleeping! They are so proud when they come out and say "Clock is yellow! Time to get up!!!!"
I'm finally having a bit of peace and quiet to myself! Plus, the clock has even MORE to offer! You can set it to tell your child a story, play music, AND have white noise sounds for sleep. In addition, you can program it with a wake up song to wake your child for school. This clock is amazing!!!! Plus, you can plug it in, or put batteries in so you can take it with you if you travel! This is so nice… When we go somewhere, I am always trying to find something to help produce the white noise my kids are use to sleeping with. Now, I can just take this along and their routine isn't changed!!!!!
Let me tell you about the stories… we have 4 of them. We have the original one that comes with the clock, Goldilocks, Sleeping Beauty, and Tortaise and the Hare. Not only are the kids listening to timeless classics, but the way these stories are created truly help the kids to relax and go to sleep!!!! I was listening to one the other night. The story almost sounded like a meditation CD I have used to get to sleep! It talked about relaxing your body, then during the story it had some slow repetition and the person swinging back and forth… back and forth… back and forth. They have REALLY put some thought into this!!!! Not only are they helping kids learn when to be in bed, how to start reading a clock, and listening to a story, but the kids are also learning how to calm their body and mind! This is something I am JUST NOW learning!!!!!
In conclusion, I can't say enough good things about the TOT Clock . The product is amazing!!!! In addition, when I first received a clock that had a small flaw, they immediately sent me a new one AND a paid shipping box for the return of the other! They took it right in to examine it so they could avoid having any more problems. In addition, they sent us one of the treasure stories. They have been the best costumer service I have ever worked with!
My opinion, this is a MUST HAVE! It will help with sleep time, time out, night waking, and much more. I don't know how parents of toddlers can live without it!!!!
This code expires at midnight tonight. Go out and try redbox with today's free rental code!!!!
Code: QNGJ7KD
Bree… a few months ago.

Me, around 2-3.