Worried about my sweet princess. :(
By
Last week I started noticing B's right eye turning in. I thought it was just my own eyes playing a trick on me. Then, my mom noticed it. When we returned, dh noticed it. The more I have watched her, the more I noticed. In addition, she has started complaining about the other eye hurting.
After some research, I think it may be week eye muscles in the one eye. From other people, they say it can come on fairly quickly. The stronger eye is hurting her, because it is over compensating.
Perhaps others of you have experienced this. For us it is new. I am worried about it. I just want to protect my little baby. I hate to see her going through something else.
First IUGR, then projectile vomiting/reflux, a bit behind on gross motor muscles, now this. I love her so much… I hate to see her going through anything.
Tomorrow we have an appt. with the pediatrician. Wish us luck. Here is a picture I captured at dinner. You can clearly see the one eye turning in.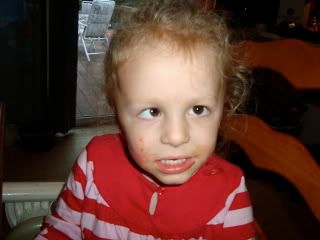 Leave a Comment